ARRESTED for Workers' Compensation Fraud (Javier Castro-Rivas)
November 6, 2013. Command Investigations, Lion Insurance and Packard Claims, announce the arrest of Javier Castro-Rivas for Workers' Compensation Fraud resulting from an SIU fraud investigation.After... Continue reading →
ARRESTED for Workers' Compensation Fraud (Javier Castro-Rivas)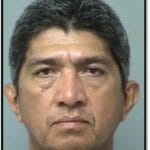 November 6, 2013. Command Investigations, Lion Insurance and Packard Claims, announce the arrest of Javier Castro-Rivas for Workers' Compensation Fraud resulting from an SIU fraud investigation.
After completing the fraud investigation, Command Investigations referred this claim to the Florida Division of Insurance Fraud.  Castro-Rivas was arrested on November 1, 2013 in St. Johns County, Florida and was charged with F.S. 440.105(4) – Workers' Compensation Fraud and 817.568.10 Misrepresent Self Commit Personal Id.
Castro-Rivas is currently being held in jail in lieu of $ 2,500 bail.
All parties are presumed innocent until proven guilty.