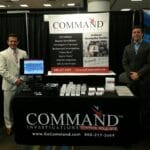 August 28, 2014.  Command Investigations attends the 2014 Annual Educational Conference for Workers' Compensation in Atlanta, Georgia from August 25 – August 27, 2014.
Command is expanding into the Georgia market in the immediate future and will offer a full variety of investigative services. These services include Surveillance, Background Investigations, Claims Buzz™ Social Media Checks, Investigative Canvasses, Filed Investigations, Activity Checks and SIU & Anti-Fraud Programming.
Command Investigations is an approved provider of continuing education in the state of Georgia offering courses on topics titled, "Surveillance & Fraud," "Investigative Options for the Claims Professional" and Savvy Investigative Secrets: The Real Story."
To learn more, contact Command at 800-217-2464 or visit our website at www.GoCommand.com.