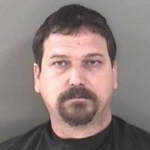 January 19, 2016. Command Investigations, SUNZ Insurance Company and North American Risk Services (NARS) announce the arrest of Bradford Gordon.
As SUNZ's SIU Department, Command initiated an investigation on Bradford Gordon after he was injured when the company vehicle he was a passenger in was rear-ended by another vehicle. Gordon was placed on an out of work status with no driving.
During the investigation, Command Investigations documented Mr. Gordon throughout the course of surveillance lifting and carrying large items to include furniture and driving a U-Haul truck. Gordon subsequently misrepresented his physical activities during his sworn deposition in order to continue receiving workers' compensation benefits, testifying that he had only pushed a couch and carried light boxes. He denied moving any other furniture items.
Based upon the evidence, Command's SIU Department, working in conjunction with SUNZ Insurance Company, submitted a referral to the Florida Division of Insurance Fraud (DIF) as statutorily required based on material misrepresentation. After review, DIF issued an arrest warrant for Gordon.
On January 15, 2016, Bradford Gordon was arrested in Indian River County, Florida, for insurance fraud, violating F.S. 440.105(4)(b)2 – Workers' Compensation Fraud, 812.014.2c1 – Grand Theft and 837.02 – Perjury.
Gordon's bond was set at $5,500.00 and his trial is pending.
All parties are presumed innocent until proven guilty.
UPDATE: The charges were Nole Prossed on 11/28/2016.
Command Investigations, LLC is the preferred provider of Surveillance, SIU & Anti-Fraud programming to P&C Carriers, self-insured entities and third-party administrators.