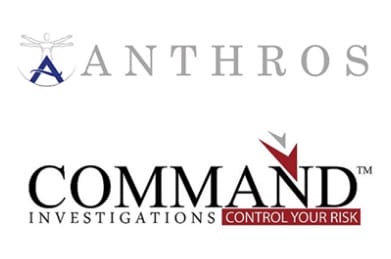 September 1, 2015. Winter Park, Florida – Anthros, Inc. announces an exclusive agreement and partnership with Command Investigations, LLC, as their dedicated primary source for background checks and pre-employment screenings for potential employees.
Under the agreement, Command Investigations will work in conjunction with Anthros to provide the most thorough and comprehensive results in the industry.
Command Investigations is proud to be Anthros' strategic resource and dedicated investigative partner, delivering unsurpassed service and results. For the full release, click here.
Command Investigations, LLC is the preferred provider of Surveillance, SIU & Anti-Fraud programming to P&C Carriers, self-insured entities and third-party administrators.