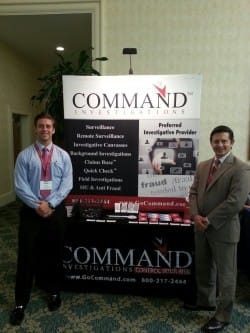 April 24, 2014. Command Investigations was honored to attend and sponsor the 2014 Spring Forum on Workers' Compensation and the Annual Workers' Compensation Education Conference.
This event was held on April 23, 2014 at the Caribe Royale in Orlando Florida.  This conference is a joint effort between the law firms of Rissman, Barrett, Hurt, Donahue & McLain, P.A. and McConnaughhay, Duffy, Coonrod, Pope & Weaver.
This year's Spring Forum featured legislative, regulatory and judicial updates on workers' compensation issues, a judicial panel with four outstanding judges, federal law and case law update, claims strategies and practical tips for workers' compensation cases and ethical considerations for adjusters and employers.
Command was pleased to sponsor this annual event.