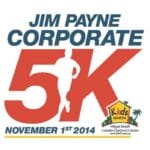 October 27, 2014.  Come join Team Command as we run/walk in the Jim Payne Corporate 5K in on Saturday, November 1, 2014.  Team Command is comprised of Command employees, clients and families who will run and or walk through historic downtown Sanford along the Lake Monroe waterfront.
The Jim Payne Corporate 5K benefits The Kids House and 100% of the proceeds from this event will be donated to this organization.
For more information, please visit: http://www.active.com/sanford-fl/running/distance-running-races/jim-payne-corporate-5k-for-the-kids-5pm-2014
Come Run or Walk with Team Command !!