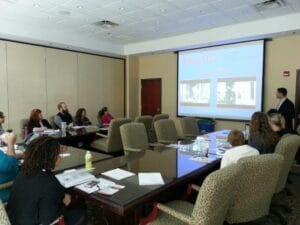 February 4, 2015.  Command Investigations presents our popular CEU titled, "Fraud-Surveillance & Fraud Training."  This continuing education class was attended by the team from Florida League of Cities in Orlando, Florida.
Command's accredited CEU training course provides in-depth analysis and discussion pertaining to the topics of surveillance and fraud.
Examination of effective surveillance, ethical & legal considerations, privacy issues, successful communication models, claimant profiling, and scheduling are just some of the many topics reviewed during the first hour.
Training continues with a focus specifically on fraud.  Topics include fraud identification, fraud trends & schemes, and the necessary components required for a successful fraud referral. This training segment outlines and identifies the adjuster's exact involvement and requirements necessary to submit a working fraud referral.  Real fraud cases are reviewed and analyzed.
Command Investigations offers several state approved CEU training courses. (Click to read more).
To schedule a CEU class, call 800-217-2464 or email info@GoCommand.com.
Command Investigations, LLC is the preferred provider of Surveillance and SIU & Anti-Fraud programming to P&C Carriers, self-insured entities and third-party administrators.  Investigative cost containment solutions also include background investigations, Claims Buzz™ social media searches, investigative canvasses, recorded statements and scene investigations.