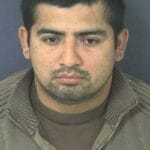 December 11, 2014.  Command Investigations, Lion Insurance and Packard Claims are pleased to announce the arrest of Abed Nego for Insurance Fraud.
Working in conjunction with the claims personnel of Packard Claims, sufficient red-flag indicators were identified by Command's SIU Department; wherein, a full investigation was initiated.  Upon completing the investigation, evidence was ascertained and compiled identifying false and misleading information that was used in the furtherance of Nego's claim.  Based upon these SIU investigative results, a referral was made to the Florida Division of Insurance Fraud (DIF) as statutorily required.
Subsequently, Abed Nego was arrested on December 9, 2014 in Gadsden County, Florida and was charged with insurance fraud in violation of F.S. 440.105(4)(b)(9).
Currently, Abed Nego is being held in the Gadsden County jail in lieu of $2,500.00 bond.
All parties are presumed innocent until proven guilty.
Command Investigations, LLC is the preferred provider of surveillance, SIU & Anti-Fraud programming to P&C Carriers, self-insured entities and third-party administrators.  Investigative cost containment solutions include surveillance, background investigations, Claims Buzz™ social media searches, investigative canvasses, and Special Investigative Unit (SIU) services.