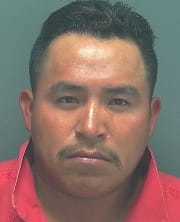 February 25, 2015. Command Investigations and Packard Claims in cooperation with the law firm of Bennett, Jacobs & Adams P.A. announce the arrest of Erik Martinez. Charges include the use of false identification for a workers' compensation claim and the fraudulent use of personal identification information.
During a review through Command's Social Security Number Verification Program™, it was determined that Martinez utilized a false Social Security Number in an attempt to obtain insurance benefits. Command's SIU Department discovered that the Social Security Number used by the claimant had been issued in the state of Florida to another individual.
Command's SIU Department worked in conjunction with Packard Claims to gather evidence culminating with a referral to the Division of Insurance Fraud (DIF) as statutorily required.
Based upon the information, DIF issued an arrest warrant for Martinez.
On February 20, 2015, DIF arrested Martinez in Fort Myers, Florida for insurance fraud, violating F.S. 440.105(4)(B)(9) – FRAUD USE FALSE ID FOR WC CLAIM and F.S. 817.568(2) – FRAUDULENT USE OF PERSONAL IDENTIFICATION. Command obtained exclusive video footage of the arrest.
Erik Martinez's first charge was given a bond of $10,000, and his second charge was given a bond of $5,000. Martinez was bonded out the same day as his arrest. His trial is scheduled on March 2, 2015 at 8:30 a.m.
All parties are presumed innocent until proven guilty.
Command Investigations, LLC is the preferred provider of Surveillance, SIU & Anti-Fraud programming to P&C Carriers, self-insured entities and third-party administrators.  Investigative cost containment solutions also include background investigations, Claims Buzz™ social media searches, investigative canvasses, recorded statements and scene investigations.